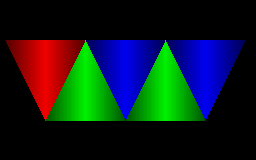 The Weaver Computer Engineering Research Group
Our group conducts research in all aspects of Computer Engineering, with a concentration in High Performance Computing, Embedded Systems, Computer Architecture, Operating Systems and Computer Security.
---
Recent News
19 July 2018
Prof. Weaver presented a talk, Apple II Programming Adventures, at the Kansasfest2018 conference. His project won second place at the Hackfest competition.


21 June 2018
Prof. Weaver's paper An 8 Kilobyte Mode 7 Demo for the Apple II was published in Issue 0x18 of the PoC||GTFO journal.


April 2018
Congratulations to Yanxiang Mao for successfully defending his Masters Thesis: Detailed Power Measurement with ARM Embedded Boards


19 March 2018
Professor Weaver was granted tenure!


30 November 2017
Congratulations to Yan Liu for successfully defending her Masters Thesis, "Optimizing PAPI for Low-Overhead Counter Measurement"


15 November 2017
Prof. Weaver and Yan Liu had multiple works presented at the Supercomputing Conference (SC'17) in Denver, Colorado.

Enhancing PAPI with Low-Overhead rdpmc Reads was presented at the Extreme-Scale Programming Tools (ESPT) Workshop. See more info on our presentation here

We also had a poster, Recent Advances in the Performance API (PAPI) in conjunction with the Innovative Computing Lab at the University of Tennessee Knoxville. This poster was nominated for the Best Poster award.

Here's a picture of Prof. Weaver helping to present the poster, you can watch the full video here: https://www.youtube.com/watch?v=gY_l8TrNmWU



1 November 2017
The Weaver Group Computer Engineering Lab has moved to a new, freshly renovated, lab in 204 Barrows Hall.

3 November 2016
Prof. Weaver presented his work on the perf_fuzzer at the 2016 Linux Plumbers Conference in Santa Fe, New Mexico. A writeup of the talk can be found at LWN: A trio of Fuzzers.
7 October 2016
Prof. Weaver gave an invited talk at the University of Maryland, College Park: The Challenge of Measuring Power on Modern Computing Systems.
6 October 2016
Prof. Weaver presented the group's work on DRAM RAPL Validation at the 2016 MEMSYS conference. His presentation won the award for Most Gratuiutous Use of an Umlaut in a Scientific Presentation
23 September 2016
Our group's paper on our Raspberry Pi Cluster was published in the MDPI Electronics Journal Special Issue on Raspberry Pi Computing.
13 September 2016
One of Prof. Weaver's projects was featured on the Official Raspberry Pi Foundation Blog
27 April 2016
CUGR student Spencer Desrochers presented a poster on his work at the 2016 UMaine Graduate and Undergraduate Student Research Symposium
18 April 2016
CUGR student Spencer Desrochers and his work at the Weaver Lab was featured in an interview at the Maine Journal
17 November 2015
Prof. Weaver presented Initial Validation of DRAM and GPU RAPL Power Measurements at the 2015 Extreme Scale Programming Tools Workshop at SC'15
13 November 2015
Prof. Weaver received the UMaine Department of Engineering's Early Career Teaching Award
27 August 2015
Our group was awarded a grant by the NSF in conjuction with a group at the University of Tennessee to enhance the PAPI performance measurement library for extreme-scale systems.
20 June 2015
Congratulations to Chad Paradis for successfully defending his Masters Thesis!
---
Current Projects
---
Publications
---
Funding
2015-2019 with University of Tennessee Knoxville
NSF SI2-SSI: Collaborative Proposal: Performance Application Programming Interface for Extreme-Scale Environments (PAPI-EX)
---
Computing Hardware
List of machines maintained by the group
---
Current Researchers
Advisors Masters Students Undergrad Students
---
Past Researchers
Masters Students Undergradute Researchers 2016 Summer NSF Sensors! REU students
Ben Schaff, University of Maine
2015 Summer CUGR student
Spencer Desrochers (power measurement)
2014 Summer NSF Sensors! REU students
Juan Mont, University of Puerto Rico Arecibo
Ian Wright, University of Maine
2013 Summer NSF Sensors! REU students
Philipp-Alain Bastien, Syracuse University
---
Back to my UMaine EECE page